Travelling alone can seem intimidating, but it can also be the most rewarding experience you ever have. You don't have to tailor your itinerary to fit others. A solo trip to Bangkok is bound to be unforgettable. From the vibrant city life to breath-taking natural scenery, exquisite traditional & international dishes to amazing shopping options, ancient temples, and of course, friendly locals, the city has it all. Without further ado, here are some of the things to do and see on your solo trip to Bangkok:
Visit The Grand Palace
Photo © Hanny Naibaho on Unsplash
The Grand Palace is one of the best attractions in Bangkok. It was once home of the monarch, as well as, the administrative seat of the government and the royal court. The palace is beautifully decorated with diamonds and gold in outstanding old-Bangkok architecture.
It houses the famous Temple of the Emerald Buddha with the main attraction being The Emerald Buddha statue. Just ensure you are appropriately dressed for the temple. Watch out for potential scams outside the palace.
Take a Trip around Chatuchak Market
Bangkok is well-known for one of the best shopping destinations in Asia. There are so many places are waiting for you to visit. Chatuchak Market Bangkok is also the biggest outdoor market in the world. This place is a must-go if you are in the city during the weekend.
There are several things you can do here like shop, enjoy the local sights and sounds, grab a cheap coffee, or simply watch the crowds. There are over 10,000 stalls selling virtually anything at cheap local prices, including clothes, artwork, house supplies, DVDs, and much more.
By the way, the bars here are a great place to meet fellow travellers or interact with the locals. Remember to carry a map to avoid getting lost in the market.
Get a Thai Massage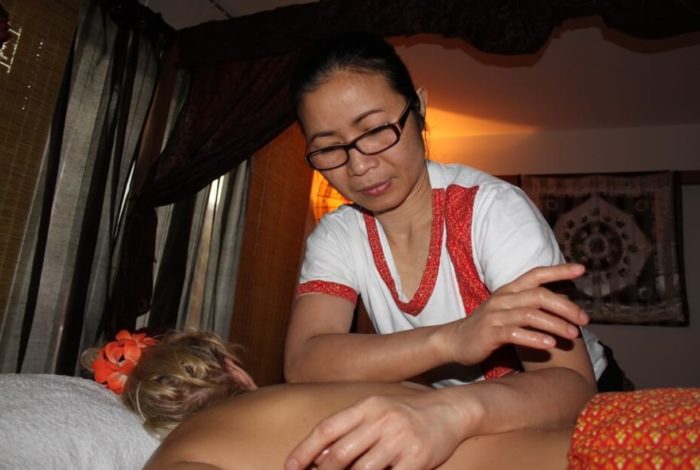 Photo © Pixabay
What better way to end your day than going for a Thai massage. This massage requires close body contact. The therapist uses their hands, elbows, and sometimes feet to knead your body and joints. The Thai massage is gentle but also painful at times. After the massage, you'll feel invigorated and relaxed. What's more, they are pocket-friendly.
Take a Walk at Lumpini Park
Lumpini Park (Bangkok's green lung) is a great place to have a break from the hustle and bustle of the big city. It's perfect for a stroll or some relaxation on the grass. Sometimes, it's filled with people taking part in all manner of activities, including playing sports, practising Thai Chi, walking, or biking. This can be a great opportunity for solo travellers to have some fun with the locals.
Drink at a Rooftop Bar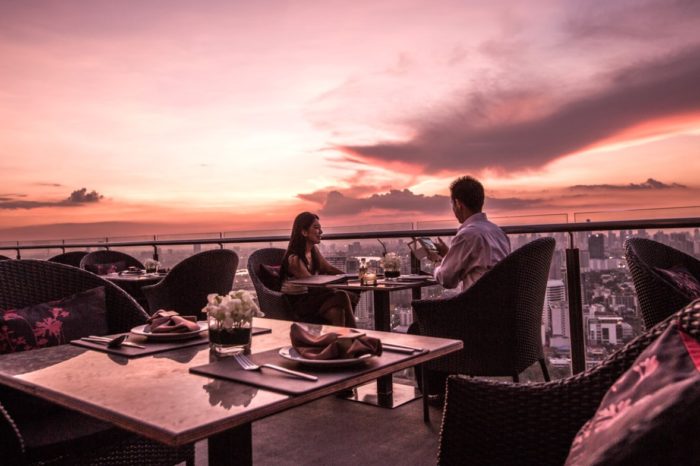 There are several rooftop bars in Bangkok Sukhumvit. These rooftop bars are not for those with a fear of heights; however, a trip to Cielo Sky Bar & Restaurant, which is on the 46th floor of the Skywalk Condominium, will surely thrill others. Unwind with some fancy drinks at the rooftop sky bar while you admire the magnificent view of Bangkok`s skyline.
Experience Street Food
Street food can be found on every block. Plus, it's cheap considering most locals choose to eat from there as well. There are several local dishes to choose from such as Pad Thai, chicken/shrimp fried rice, Som Tam (papaya salad), chicken satay with a peanut sauce dip, squid, and noodles. The food is fresh, traditionally prepared, and most importantly delicious. A street food tour is definitely one of the best things to do in Bangkok, especially if you are travelling on a budget.
Go to The Bangkok National Museum
The museum houses the largest collection of Thai art and artifacts in all of Thailand. It offers the best things to see in Bangkok, including impressive wooden carvings, precious stones, a large collection of ancient musical instruments, ornate funeral chariots, Chinese weapons, Khon masks, and much more.
When it comes to choosing where to take a solo trip, Thailand is one of the best destinations to visit. A major concern for most solo travellers is often safety. A few standard precautions like don't take unlicensed taxis, don't consume anything from a stranger, don't go home with strangers, and most importantly use your common sense, should make your solo trip safe. So, get planning and enjoy your solo trip to Bangkok. Be sure to see and do as much as possible.
Featured Image credit: Photo © Hanny Naibaho on Unsplash
About the Author:
As a life of a digital nomad, Maryn Mcdonnell is also a travel lifestyle writer who loves exploring the world and shares her travel experiences with other passionate travellers out there! Find Maryn on Twitter @MarynMcdonnell.