To most people Dubai is famous for its wealth, marvelous skyscrapers, luxurious shopping malls, dazzling nightlife, and the Arabs driving expensive cars wearing white 'thobes' on the desert roads. But this city never stops wondering the world with its novel and creative initiatives. In this article we will ponder upon such a novel and creative man-made oasis of the desert – the Al Qudra Lakes. Al Qudra Lake is designed to promote eco-tourism in Dubai. The entire site includes multiple artificial lakes, surrounded by eye catchy fauna and sand dunes. None of Dubai's often uttered tourist attractions resemble with this remarkable site. This place will attract anyone, especially if you bear love for the wilds and a heart with romantic vibe.
Introducing Al Qudra Lakes
Al Qudra Lakes are a series of manmade lakes, which are favorites as a recreational place. These artificial lakes in the desert that provide an easy relaxation opportunity from the hustling of city life. Additionally, it offers a various entertainment options that will make you relaxed and reenergized.
If you are an explorer or outdoor enthusiast, Al Qudra Lakes have many things to offer. You can find a plenty of options to enjoy a day here like the calm beaches to rest, buzzing roads for riding a cycle, and other ways of fresco entertainments. But, Al Qudra remains there as a beautiful oasis of the desert for those cherishing a serene landscape. It will also be suitable as a true destination for eco-tourism especially for wildlife lovers who want to rest in the very lap of the mother nature.
These huge lakes made of human which fit wonderfully with its natural surroundings. It remains originally as a fragment of the 'Al Marmoom Desert Protection Reserve' residing in the center of the typical dunes in the Saih Al Salam Desert. There are numerous avian species that choose to nest in this area. It also becomes a natural habitat as there are low bushes, trees which provide food for birds and pests. Though humans may not find enough shades. The lakes may be known as artificial, yet the adjacent area is still unspoiled. You can find hundreds of bird species including migratory birds in the wetlands of Al Qudra. The lakes have towers to watch birds and both sunrise and sunset can be viewed from these towers. As the area has the lowest light pollution it becomes famous among the astronomers as well.
Al Qudra Lakes are designed to flourish tourism sector in Dubai as sustainable. As a human made oasis of the desert, there remain different human made dunes, lakes and flora and fauna in its surroundings. Recently, its expansion maintaining the authenticity of the environment of desert has converted this site more prominent among the potential tourists. The desert of Al Qudra had extended into such a site and in such a way where explorers could have first-hand experience of the nature and all the components the nature could possible offer. The Lakes of Al Qudra become popular for camping and remains as one of the famous BBQ sites in the entire Dubai.
Location of Al Qudra Lakes and How Can You Reach It
The lakes are famous with the natives as a picnic spots, for dog walk and watching bird of the desert. It takes even not an hour from Dubai to reach Al Qudra. It lies just right along the Al Qudra Lane. Following the directions from Google Map, you can comfortably find Al Qudra Road through Al Ain Road or even Emirates Road. Al Qudra's directions on Google Maps could be found effortlessly. Thus, anyone can find them easily. While travelling toward Al Qudra just remember that it will be a bit off-road, so a 4-wheeler is safer to reach there comfortably.
You can reach Qudra Lakes only by car. Considering its remote location and the adjacent roads and paths, a 4×4 car will be the perfect choice. There remains a lack of street lights to preserve the natural environment. As Al Qudra Lake are around 10 miles in the eastern side of the al Maktoum Airport, right along the Al Qudra Road (D63) can be accessed via Dubai Ail Ain Road or the Emirates Road. Entrance into Al Qudra Lakes remain free for everyone. Though there is no entry fee applicable at the moment, but certain activities, like renting bikes and others may cost as per the vendor's discretion.
The city authority has planned and is preparing to construct a link road to allow access to Al Qudra Lake Dubai and the other artificial recreational areas which includes Al Qudra's Love Lake, the Swan Lake, and the Flamingo Lake and so on. The improvement project of Saih Al-Dahal Road will create a dual traffic lane that extends 11 kilometers in the adjacent area. In addition, there remain plans to build three roundabouts, e.g. two lanes for efficient transportation and a central reservation. Upon completion, the project will drastically increase the road's capacity from 1,800 to 4,000 automobiles to house the growing traffic. The route from Dubai City to Al Qudra Lakes will then be easier.
Al Qudra Lakes Timings
There is no prescribed visiting timing for Al Qudra. It is open throughout the day and all the days in a week. Though, it is better to say that you may face a little prohibition when it is dark out there.
Things to do in Al Qudra
Here is a list of things that you can enjoy doing in Al Qudra Lakes with your family and friends:
Along with others, the most spectacular attraction that Al Qudra offers you is the Love Lake which is not just a BBQ spot. It will not be an exaggeration to say that Love Lake poses itself as one of Dubai's best sites for tourism. This place consists of two immense lakes into the shape of two interlinked hearts and surrounding fauna that spell 'Love'. The Love Lake is so enormous that you could very easily see them from the satellite view of Google Map. Residing away from the hustle of city it will offer you a calm and quiet environment to spend at least an evening with your near ones to feel the tenderness of the nature. The most splendid sunset in the entire Dubai could be witnessed form here. The setting sun's orange beam mixed with the golden desert and the tender green flora of the lakes is beyond imagination. Thus, it is just before the sunset which is the appropriate moment for visiting Love Lake. Pray to have the weather been okay, so you can have the perfect experience watching the surrounding sights and listening to the wild birds' singing for eternity in the lakes' forest.
If there remains an appropriate stand/cooker you can have BBQs just in the allotted areas just aside the lakes. You need to manage the fire in such a way thus it will not damage the nature. You will be supplied with waste containers for burning charcoal there.
Though, this could be an admirable park for jogging, pet walk and picnic spot you will not meet many joggers and find any housing facilities. Still, you might meet a few cyclists visiting the park.
You should experience the pool water of the lakes. There are markings on the deeper parts of the lakes. You will find a particular part of the pool is occupied with a fishes like Goldfish and Koi Carp. But don't be afraid seeing the huge mouth of the Koi Carp. It is completely safe to swim with these schools of fishes. You can also find some spots in the Love Lake Park for your Instagram profile.
Things You Should Know before Going to The Love Lake: You can enjoy an open access to the lake, as there remains no entrance fee. You need to have proper licenses/approval if you want to fly drones in the lake and the adjacent park and do not try to feed the park's fish or birds. Deserts' weather is much colder in winter. Thus, dress properly when. Follow the guidelines and do not grill in the locations other than the prescribed barbecue spots. Remember that burnt charcoal residuals are hardous to wildlife. So, just don't throw them away. In particular areas of this site, high heels are not allowed. Keep this in mind also. You will find the Toilet facilities are very few there and they are only accessible from the the parking area. Take garbage bags with you as no litter is allowed here, as it can cause damage to environment.
Al Qudra Lakes as Camping Site
Al Qudra remains as one of the best among UAE's camping sites. The manmade reservoirs and surrounding dunes provide a superb barbeque atmosphere, glittery views, and an overnight campground as well. Though the place is generally occupied during the weekends, but in the eastern side of Al Qudra and near the Love Lake, you can still manage a quiet spot to start with your tent. It is free to camp here but you need to bring the camper supplies eg. tents, packs, torches, etc. with you.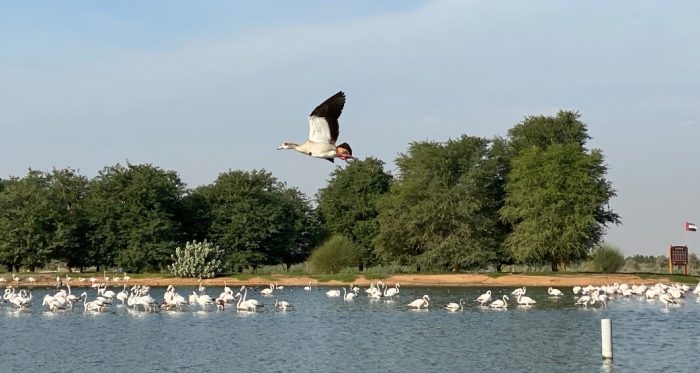 Ecotourism could be defined a kind of tourism where tourists actively participate in conservation efforts of the nature and gain knowledge about the mother Nature in their default set up. Al Qudra satisfies all these aspects as to define itself as an ecotourism site. Though, initially built to encourage ecotourism in the city, Al Qudra Lake gradually gained momentum as a renowned tourist attraction. The genuine desert like feeling adds to the serenity of this site. Currently, there are varieties of activities that you can enjoy. The main highlight of the attraction remains as, it enables tourists to experience the wildlife in their regular habitat.
Admiring the Wildlife of Al Qudra
You can find near 200 indigenous birds and wild habitats in the surroundings of Al Qudra Desert. Though the lakes of Al Qudra remain as artificial, but they are also a natural sanctuary to preserve the nature. The wild creatures may seem to a little mysterious since they can be spotted in search for food here and there. You can easily see group of gazelles, foxes, or rabbits running and playing around Al Qudra. It is also a great place to different species of ducks, spot black swans and flamingos. If you are fortunate enough, then you can spot the endangered Asian Houbara or the Steppe Eagle. It is totally prohibited to feed these wild animals, so you need to resist yourself and others doing that.
Bird Watching Tower of Al Qudra
Almost all the lakes of Al Qudra have towers to watch the birds from. These towers are ideal for watching the sunset and sunrise also. They offer excellent views and angles to watch the wild birds of the lake. These watching towers are made in a unique and fantastic way, thus, you can get a great view of the lakes from the above.
You will find an 86 kilometer track that runs across Al Qudra which makes cycling as one of the most popular hobbies in the surrounding area. Additionally, this cycling trail is known as one of the best cycling paths in the entire Dubai. This place is an ideal one to experience the outdoor atmosphere. In the sandy desert dunes you can find cyclists from both the amateur and experienced genres.
Cyclists can find two cycling car parks here: one is the near the Mira Oasis villas known as Al Qudra Cycling Car Park and another is in the Seih Al Salam which is known as the Trek Bicycle Store. A Trek Bicycle Store will be comfortable if you want a cycle workshops and bike rentals near the lake site. The rental facility offers a wide range of bikes and the necessary riding accessories for rent and here you can also find restrooms and showers facilities on site. The cost of renting each bicycle depends on their models and cycling hours. The requirements to hire a bicycle are just to have you passport or an Emirati ID. The path is open for 24 hours for everyone and for the shops Teck Bike Store remains open from 5:00 AM to 11:00 AM in the morning and 4:00 PM in the afternoon to 10:00 PM at night.
Romantic Vibe of Al Qudra
There is no doubt that Love Lake of Al Qudra gives this site a romantic flavor. This place is so colossal and is full of heart shaped motifs that make it the right place to feel the romantic vibe. You can find dedicated running track, shaded areas, fireplace and washroom facilities along with the dreamy environment. It is totally free to visit this place and you can even spend the night here in a very cost-friendly way. It will only take 10 minutes from Al Qudra Lakes to visit the Love Lake.
Experience of Sunsets from Al Qudra
Al Qudra offers you an easy relief from the monotony of daily repetitive works. To experience heavenly sunsets just to make an unforgettable memory in your lifetime Al Qudra will be the best choice. Yeah, off course, get ready for those mighty shots of the sunsets from your camera. As this place is away from the sky-kissing skyscrapers and busy sandy highways you can view the sky turning orange gradually, as the sun sets over the desert dune in the horizon, gifting you with unhindered and striking sights of the nature. You can get unbelievable imageries if you want to as a nature loving person. Anyone will appreciate the nature's beauty at this time. Only to experience this beauty and enjoy the calmness Lake Qudra it could be a great spot for picnic lovers. After the sunset, the Lakes turn splendid at night – the sky beyond it, once turns dark, the entire lake glows and reflects the slivery beams of the moon and thousands stars.
Al Qudra Lakes' Last Exit
Passing a day with comprehensive adventure in Al Qudra and its surroundings will certainly make you joyous and hungry at the same time. Hence, if you want to have some quick refueling snacks, just go to Al Qudra's Last Exit. It is located at the very entrance to Al Qudra, and considered as one the most popular sites for finding food trucks in the whole Dubai. This place will give you scope to choose among a versatile sets of dining choices to satisfy your food requirements. Good news is, after passing a whole day in Al Qudra, here, to make yourself comfortable you can access washroom facilities. The exact location of this facility is at the very end of Al Qudra Road which is just at the edge of the Saih Al Salam Desert. Al Qudra Lakes' Last Exit remains open in all the days in a week from 6:00 AM to 3:00 AM.
Restaurant Facilities at Al Qudra
You will not find any restaurants or cafés adjacent or near to Al Qudra to eat at. But, this could not totally resist the tourist from cooking and taking meals at the very coast, indulging its isolated natural atmosphere. Many want to know whether they can enjoy BBQs or bonfires beside the lakes. Yes, they can. You can easily find out that local tourists gather and enjoy barbecues almost all of the days in the week, grilling and spicing their lunches beside the lakes. It will not be a problem as long as the barbecues are above the ground and not touching the sand directly. If this feels problematic, you could have a picnic. Bring ready food and just pick up a blanket, find a good place to rest beside Al Qudra. While drinking and refueling yourself beside the lake and enjoy a pleasant afternoon in the countryside.
Things You Need to Know before Going to Qudra Lakes
Though you can visit Al Qudra any time of the year. But, it is best the best to visit the lake in between October and March. You will find the weather of this area at its finest temperature in this time.
Though manmade but still Al Qudra poses as a wild location. Thus, if you contemplate to get to the deep into the site, you need go on a four wheeler to make the travel safer. If your visiting plan is limited to the entrance and the cycling track Sedan cars could be said as the right choice to quickly explore the area. You may face a little competition to get the transport so you should book it as early as possible.
The temperature remains quite the similar as all over Dubai. Yet, the evenings in the lake side are colder to some extent. So, grab warm clothes while starting for Al Qudra.
Many wild species are there in Al Qudra. So, improper waste disposal could be hazardous for them. Hence, ensure that you take garbage bags for appropriate waste management. Moreover, don't try to feed the wild animals.
Since, it is explicitly forbidden to have BBQ and light the campfire on the desert sand as can endanger the wild lives there. So, if you want to have a campfire or a barbecue in Al Qudra, just take it on pot or a grill but not on sand directly.
To have better images for your Instagram profile you may prefer drones. But, before flying drones in the park, ensure that you carry the proper licenses.
In certain areas of the lake you may find that high heels are not encouraged. So, be cautious.
Al Qudra was considered as one of the most popular dog walking site. But, from 2017 a prohibition is made and a set of new rules are imposed eventually to improve the safety of the area.
You may aspire to swim in the lake water. But be aware that swimming in Al Qudra remains strictly prohibited.