Giving the tourists a lifetime experience, Dubai has now become the center for vacations with family. Dubai offers thrills, excitement, education, and peace at the same. If we talk about kids they get bored easily at a place but in Dubai, there are several places that keep kids engaged all day long. Moreover, kids would be able to learn something new while having fun in Dubai.
You can take your kids anywhere as per their interest. If your kids love water activities, then take them to Wild Wadi water park or Underwater zoo. If they are adventure fans, then Dubai ski and VR park are definitely for them. The most famous and attractive places in Dubai for kids are Kidzania, Desert Safari, Burj Khalifa, and Ski Dubai. 
Best Kids' Attractions in Dubai
Desert Safari
 Desert Safari Dubai is termed as the best place to visit with kids during the trip to Dubai. It adds fun and thrill to the day. Far from the city lights and tall buildings, desert Safari is a classic experience that you would cherish throughout life. If you want to make it more sensational then camel ride and dune bashing activities can make it worth it. Some other activities that you would enjoy here are stargazing, air balloon rides, BBQ dinner, and sandboarding. Make sure you check our Dubai travel guide during covid-19.
Desert Safari Dubai comes with different combinations; you can choose one according to your convenience. Here are some Safaris you can opt for: 
Desert Safari with BBQ Dinner
Morning Desert Safari
Overnight Desert Safari
Private Night Safari and Stargazing
Camel Safari.
 KidZania
KidZania is the version of a real city for kids aged up to 16 years. There are around eighty real-life activities, and it is spread over 7000sq.m.  It helps the kids to understand the importance of group activities, and it also helps to enhance their communal as well as managerial skills.
Kidzania gives Kizos that is Kidzania's currency that the children can use as real money and spent at salons, food courts, and a supermarket built within the premises. There are more than sixty jobs that help kids to earn money; the jobs include builder, beautician, aviation, doctor, pilot, and many more.
The not-to-miss things of Kidzania include Fire Department, Fly Dubai, Fashion Boutique, Pizza Express, Emirates Driving Institute, Kidzania Hospital, and Media House.
Parents can leave their children and relax at the Special Parents Lounge. The lounge offers TV, food, and internet facilities. Adults without kids are not allowed in Kidzania, while children below age four years can play in Fun First Nursery. KidZania is located in Dubai Mall.
Burj Khalifa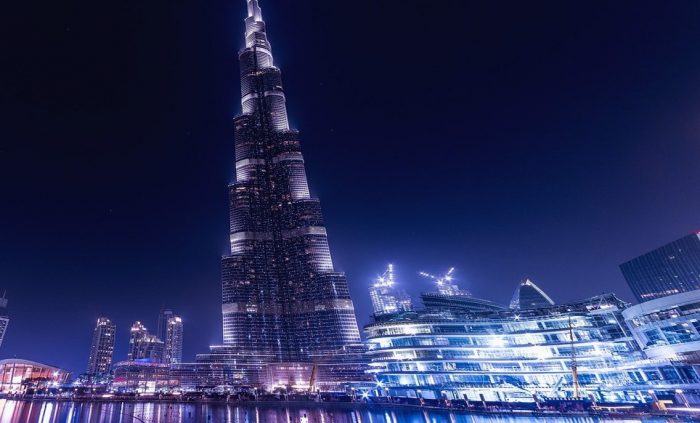 Located at the 1 Sheikh Mohammed bin Rashid Blvd, Burj Khalifa is the major reason tourists visit Dubai. It is the pride of the UAE (United Arab Emirates). It is the tallest building in the world and a skyscraper holding several records. It offers you the opportunity to witness Dubai from a bird's perspective.
Burj Khalifa was named Burj Dubai but later it was changed in the honor of Khalifa bin Zayed Al Nahyan, President of the UAE.
The tower is around 838 meters high, which allows your family to watch the stunning and mesmerizing beauty of Dubai. If you are planning a visit here then make sure to go either during sunrise or sunset as the view during these golden times is breathtaking.
The tallest building has two observation decks, one at 124th which is at the height of 1483 feet and another is on the 148th floor that is at the height of around 1821 feet. Burj Khalifa Park and The Dubai Fountain are the closest and are among the best places to visit with family.
Dubai Dolphinarium
 One of the most unique and adorable places to visit with kids is the Dubai Dolphinarium. The place offers you to witness professionally trained skillful dolphins and seals showing stunts and playing in the water.
If you are planning a visit here with the family, then make sure to visit it when they schedule the live performances of their sea creatures. Also, to add more fun to your visit, the place offers you to swim with these adorable creatures under special observation. Happy Valley in Dubai Dolphinarium provides authentic and quality food. It is located at Riyadh Street, Inside Creek Park, Gate 1.
 Ski Dubai
 Do you think you can find snow in a city with deserts? You can find it, but you must know the right place. The perfect place to keep you away for a day from hot and humid Dubai is Ski Dubai. The place offers you snow and ice in the desert land.
 Ski Dubai is a place that astounds the visitors with a temperature less than zero degrees Celsius. The pleasing climate makes it a major attraction for tourists. Kids love the snow, and Ski Dubai is full of snow. That makes it an obvious place to be loved by kids. Here you can get a chance to see enchanting penguins.
Exploring the ice cave, trying Zorbing, and hitting the slopes are some of the major activities you should surely take part in. Ski Dubai is situated inside the Mall of Emirate and is open every day. Therefore, you can come here any day with your family and spend some memorable time here.
Legoland Dubai
 Rather than tall buildings and luxury, Dubai is also famous for its unique and adventurous theme parks. Legoland is one of them. Offering complete family entertainment, Legoland is an amusement park that offers everything a kid from 2 to 12 years craves. Legoland is divided into six major zones, which are Factory, LEGO city, Miniland, Kingdoms, Adventure, and Imagination. Some of the major riders not to miss include Beetle Bounce, Build and test, Dragon's Apprentice, and Driving School. Legoland is located at Sheikh Zayed Road, Exit Number 5. Dubai has so many wonderful things to do at night.
Warner Bros World
 With twenty-nine stirring rides, Warner Bros is a newly launched theme park in Abu Dhabi. You can reach Warner Bros World with a 2-hour ride from Dubai. It is an indoor park where the kids will learn with their favorite cartoon characters. This park is spread around 1.65 million sq.m on Abu Dhabi's Yas Land. The park is full of Warner Bros' creations like Tom and Jerry, Harry Potter, Looney Tune, etc.
The indoor park has six major parts, named Metropolis, Cartoon junction, Bedrock, Dynamite Gulch, and Gotham City. Fast and Furry-ous, Superman 360, and Cartoon Junction are must not miss activities here. Apart from the fun rides, you can also fill your taste buds as the park offers multiple dining options. Moreover, if you want to take a piece of Warner Bros, then there are many shopping outlets too.
 Conclusion
 If you are planning a trip with kids, then Dubai must be your top priority as the city offers fun and thrill with knowledge and wisdom. So what are you waiting for? Book your tickets now and spend some precious time with your family!