Krabi is one of the most gorgeous tourist destinations in southern Thailand. This exotic province is known for its turquoise waters, limestone cliffs, breathtaking natural views, white sandy beaches, and so much more. The group of islands surrounding its coastline is another reason to visit this most popular tourist attraction in Thailand. Both respite and thrill-seeking travellers are spoilt for choice when it comes to fun things to do in Krabi this summer. Some of them include:
Rock Climbing On Railay Beach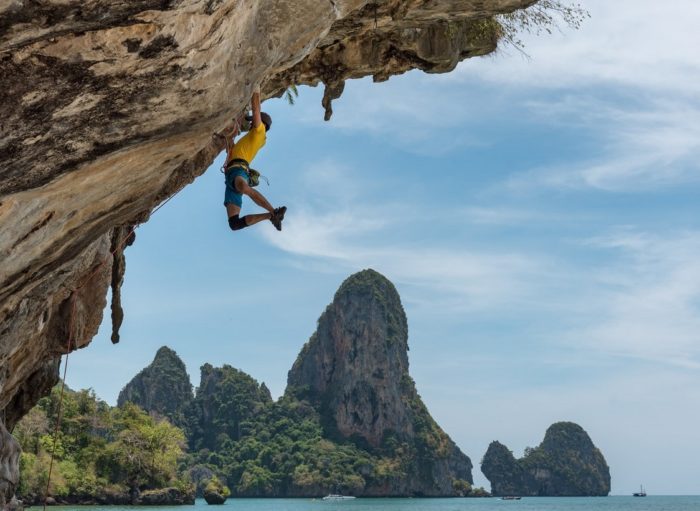 Photo © Chen Hu on Unsplash
Railay beach is a great relaxing spot where you can also enjoy some exhilarating water activities. In addition, the huge limestone cliffs that line the beach offer the perfect setting for those looking to explore the land. Climbers from around the world come here to scale the plentiful limestone rocks. Challenge yourself this summer and be rewarded with some amazing views. Railay rock climbing is an unforgettable experience that's suitable for all skill levels.
Kayaking Around Krabi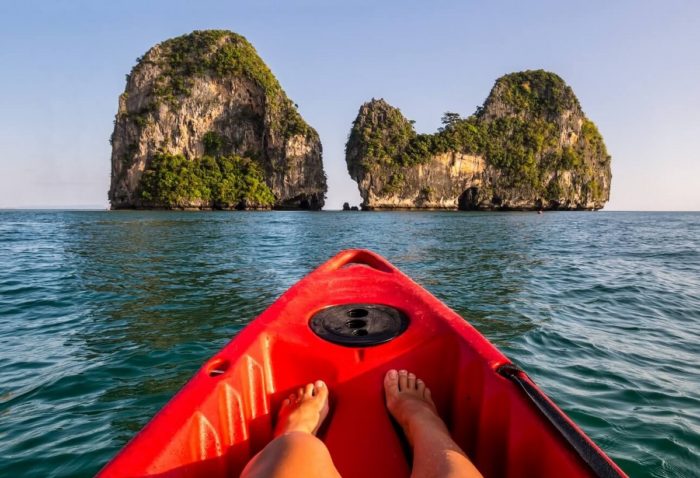 Photo © Toomas Tartes on Unsplash
Krabi offers plenty of sites for both beach and shallow water kayaking. For beach kayaking, head down to Ao Nang beach. You can rent a kayak at the kayak stand and take laps around the karsts. Popular options for shallow water kayaking include Ban Bor Thor with ancient limestone caves, Ao Thalane with mangrove forests and canyons, and Koh Hong with a lagoon hidden in its centre. All these locations offer beautiful views and interesting wildlife. Remember to carry some snacks and water!
Soak in the Hot Springs and Swim at the Emerald Pool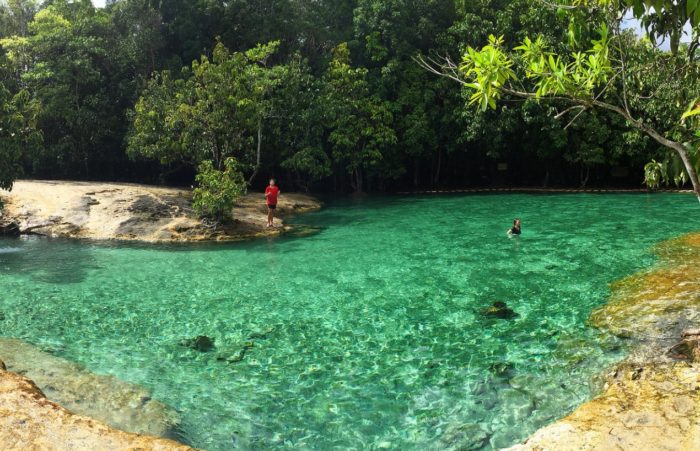 Emerald Pool (Sra-Morakot) – Photo © Jamie Monk on Flickr
The Krabi Hot Springs is located inside the beautiful tropical rainforest in the district of Klong Thom. These hot springs originate deep underground in volcanic chambers with water coming from thermal springs. These natural Jacuzzis are as beautiful as they are therapeutic. Close to these hot springs is the magnificent Emerald Pool or Sra-Morakot in Thai. Photos simply don't do justice to the crystal-clear water and the surrounding breathtaking views.
Horse Riding At Ao Nam Mao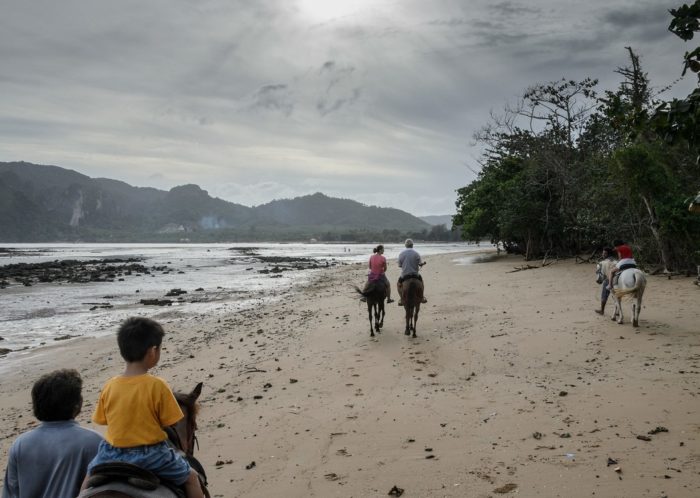 Evening Riding – Photo © Stinkee Beek on Flickr
Ao Nam Mao Beach is relatively quiet, making it the perfect location for Krabi horse riding. Riding along the beach while kicking up the surf in this deserted and windswept location is an unforgettable experience for beginners and experienced horse riders alike. The horses are trained and can go into the water. Those taking longer rides can head inland into the countryside and marvel at the stunning views of the islands located just off the coast.
Visit the Tiger Cave Temple
If you are looking to explore the religious life of this region, then look no further than the Tiger Cave Temple, Wat Tum Sua. Explore the caves for a chance to see icons and relics. Be sure to visit the footprint of the Buddha, which is about 1,237 steps up. Climbing to the top is strenuous, but you'll be rewarded with once-in-a-lifetime views of the Andaman Sea and the adjacent countryside.
The province has tons of accommodation options for every type of traveller. Choose the right place to stay by comparing prices and the services offered. Some hotels have bikes available for you to cycle your way through Ao Nang beach and around. As for getting around, you can rent a car to help you travel within and outside Krabi while the ubiquitous long tail boats and ferries will get you around the beaches. Don't forget to try out the local delicacies!
Featured Photo © Evan Krause on Unsplash 
About the Author:
As a life of a digital nomad, Maryn Mcdonnell is also a travel lifestyle writer who loves exploring the world and shares her travel experiences with other passionate travellers out there! Find Maryn on Twitter @MarynMcdonnell.