Mumbai or Bombay is probably one of India's most famous cities. They say that Mumbai is a name, while Bombay is an emotion. Mumbai is known for the various types of cuisines available, from Parsi and Iranian to Chaat and Chinese, the city has its own unique take on food from all around the world. A list of Mumbai's most famous food can be found here. It is also home to the Hindi film industry, or Bollywood and one can usually spot a group of paparazzi terrorizing not only the actors, but their families and children as well. The most striking thing about Mumbai is the contrast between the rich and the poor. Mumbai is home to one of the world's largest slums, Dharavi. While Mumbai is a vibrant, colourful and multicultural city, it can often get monotonous and suffocating after a few days. So, here are a few places that one can explore.
Lonavala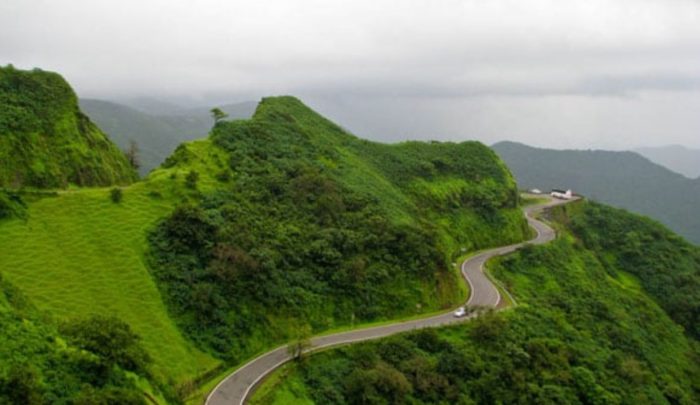 Distance: 8o km from Mumbai
How to get there: Road
 Lonavala is the most popular adventure sports destination around Mumbai. One can go dirt biking, bungee jumping, camping, glamping, and even hot air ballooning. Hot air ballooning allows one to experience the beautiful and lush scenery from a bird's eye view. One can also go to Kune Park or Lonavala Lake for a picnic and a quiet day, or one can visit Della Adventure Park for a fun and activity filled time. Lonavala is a good option for a one day trip from Mumbai.
Kolad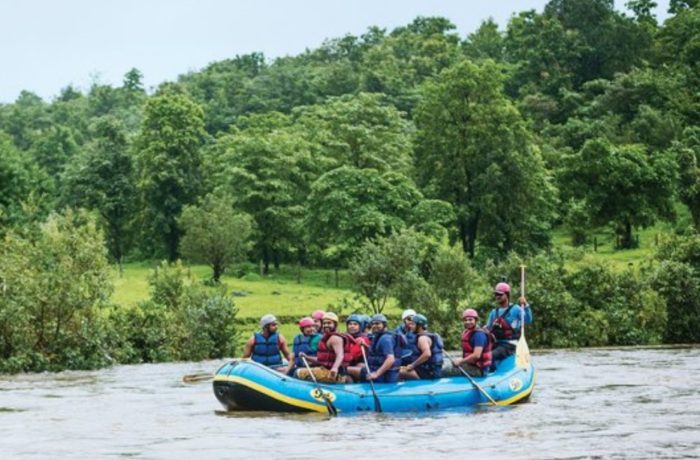 Distance: 117km from Mumbai
How to get there: Road/ Rail (Kolad has its own railway station)
  Kolad, located in the Raigad district of Maharashtra, is a haven for adventure sports enthusiasts. It is a hill station situated on the banks of the Kundalika River and one can go mountain biking, rock climbing, river rafting, and cannoning and bumper boat riding. One can also visit the Tamhini Falls or the Bhira Dam and spend the day soaking in the beautiful surroundings. Another little known, but beautiful attraction is the Ghosala Fort. The two temples and dargah situated inside the fort are exquisite and will leave you awe struck.
Kamshet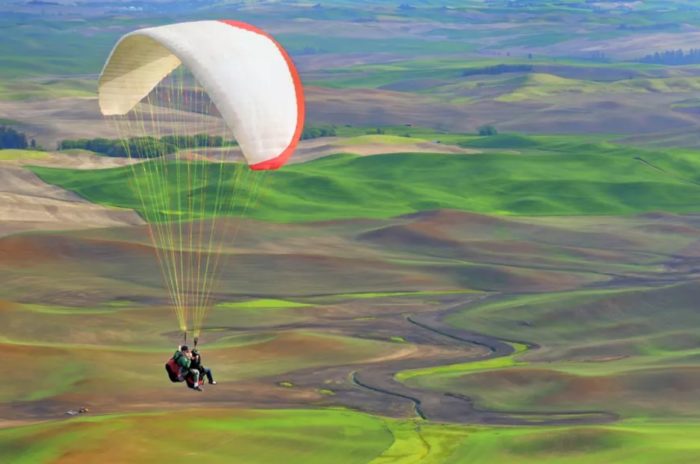 Distance: 110 km from Mumbai and 16km from Lonavala
How to get there: Road/ Rail (Kamshet has its own railway station)
  Kamshet is a scenic town that is soaked in history, and thus there is something for everyone. Apart from the usual adventure sports like paragliding (for which it is famous), one can explore the 2nd and 3rd century Buddhist caves. The Bedse caves, Bhaja caves and Karla caves are magnificent architectural marvels. One can spend an entire day here, exploring the rock cut caves. The trek along the Jamboli – Kondeshwar path makes for a scenic way to spend your day and burn a few calories.
Purushwadi
Distance: 200km from Mumbai
How to get there: Road
  Purushwadi is a small tribal village that is located enroute Nashik. It is home to the "Koli" tribe, and one can join them in their daily routine which includes rice cultivation and animal husbandry. The locals are extremely warm and very welcoming and one can also stay in the simple homes owned by them. Another attraction of Purushwadi is the simple but scrumptious local cuisine that can be found abundantly. The food is cooked and served by the local women who take much pride in their culture. It is a perfect way to understand the lifestyle and challenges of rural India, while popularising the new fad of weekend farming. Another attraction of Purushwadi is the sight of millions of fireflies that can be seen in the neighbouring hills. This splendid view can be enjoyed between the months of May and June, and will leave you awe struck.
Author Bio:
Mohan is a Junior Associate at Swag Swami, an online E-Commerce portal for funky T Shirts in India. He is also an avid gamer who spends his free time logged into Steam. He also practices Yoga and meditation regularly and teaches Yoga at the Cosmopolitan Center in India.