If you are tired of the products of your homeland, but at the same time you want to adhere to a healthy diet to maintain your body shape and overall health, then there is no reason for concern. Indeed, in this list, I have collected only healthy foods from around the world that will please you and help diversify your diet.
1. SPICES OF INDIA
India is the largest exporter of spices such as chili peppers, peppers, cinnamon, mustard oil, curry leaves, cardamom, etc. These spices not only add taste and aroma to dishes, but they are also of great benefit to the human body, in particular, they extend our life.
Because they make food especially sharp, people eat such foods slowly, unlike other foods that are simple and sweet, and therefore they do not overeat, because they understand when they are full. Most spices contain vital vitamins and antioxidants that help burn fat.
2. OATS SCOTLAND
Scottish oats for breakfast – a great solution for people who are worried about anxiety, anxiety, panic attacks, a state of nervous excitement. Wheat is considered very useful, but only wheat, and not products from it. But oats are still much more useful. It contains many nutrients that provide you with energy for the whole day.
3. RED WINE FROM FRANCE
The habit of drinking a glass of wine every evening can be considered very useful, and we should thank the French for this. The main component that makes wine so useful is called resveratrol. It prevents cardiovascular disease and slows down the aging process.
4. MINT TEA AND HUMMUS FROM THE MIDDLE EAST
The Middle East consists of Islamic countries, such as Turkey, Afghanistan, the UAE, Qatar. The menus of these countries consist mainly of dishes with the meat of chicken, lamb, and beef. But they also have healthy products, for example, hummus, which consists of chickpeas puree and flavoring, and mint tea. Peppermint tea does not contain caffeine at all, and the menthol that it contains calms various diseases, such as irritable bowel syndrome, headache, diarrhea, and nausea.
5. TOFU AND SEAFOOD FROM CHINA
Tofu, as everyone knows, is a favorite of one of the most popular diets and has become popular mainly in Chinese cuisine. Chinese restaurants where you can take food with you have appeared all over the world. True, there is evil fame about them. Because the dishes are stuffed with a lot of oil, sauces, which is very bad for human health. Therefore, people are now trying to avoid them.
However, in traditional Chinese cuisine, there are very nutritious and healthy dishes, for example, chicken or tofu with vegetables steamed with brown rice or steamed shrimps, dumplings.
6. MEDITERRANEAN SALAD, GREECE
Mediterranean dishes usually consist of fresh green leafy vegetables and seafood in the form of a salad with feta cheese. Other dishes, such as lentil soup, fried fish or shellfish, eggplant puree, caviar, tomato salad, fried sardines are also almost completely low-fat.
7. SUSHI, JAPAN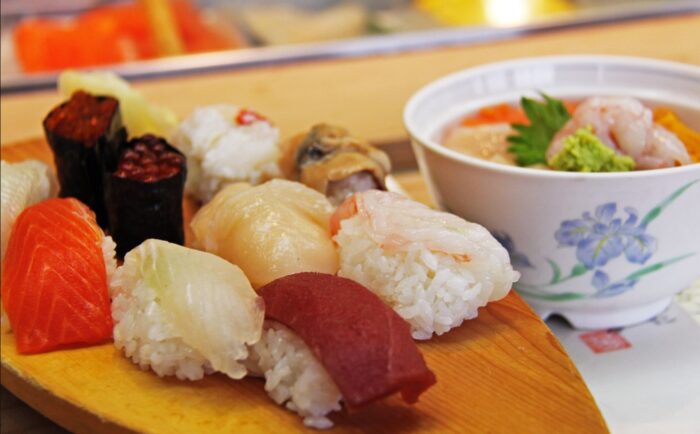 Seafood, slightly cooked or just spicy, is very healthy, as it does not contain excess harmful fats. The combination of brown rice and low-fat fish meat is the best in terms of taste, and the presence of useful trace elements. That is exactly what sushi from brown rice, and especially sushi made with lean meat, is the best fish. It is not surprising that many celebrities love this dish very much because it helps them to keep their bodies in great shape.
8. MEDITERRANEAN OLIVE OIL
Surely, everyone has heard about the benefits of olive oil, and it is confirmed by numerous facts. By the way, it is always in the diet of residents of Mediterranean countries who consume this product in very large quantities. Due to this, there the population is less ill for cardiovascular diseases. Therefore, be sure to use olive oil every day: cook porridge and fish with it, add to salads.
9. SEAFOOD FROM SARDINIA
Seafood is very low-calorie, but it is very rich in protein, minerals and trace elements: potassium, iodine, copper, calcium, magnesium, omega-3 fatty acids, zinc, and vitamin E. Therefore, seafood is very easily absorbed by the body, promotes metabolism, strengthens the immune system, important for beauty and youth. In particular, shrimp is very useful for low hemoglobin, squid is rich in taurine, which cleanses blood vessels of bad cholesterol.
10. AVOCADO FROM MEXICO
The advantages of avocado will have to be listed for a very long time, not for nothing that this product is called super-food all over the world. This is because the composition of the avocado is very useful and contributes to the overall healing of the body. Avocado also contributes to weight loss, despite the high-calorie content (212 kcal per 100 g) – its fats are easily digestible. The food uses the pulp of this fruit – for the preparation of healthy sandwiches, salads, soups.
I hope you enjoyed my menu! As for me, these are simply amazing dishes that are simply a sin not to try. And what do you think?