Pandemic has imparted negative effects to every person in this world, but the thing is that life does not stop for anything. No matter what, you just have to keep up with the pace. Dubai has been a popular destination for vacations over the years. Yes, you can say that the pandemic has affected tourism as well because of the destruction of the economic state of developing countries. No one can go on a vacation if he/she doesn't have money, right? The tourism ratio has declined but it is not diminished. 
If you are thinking of visiting Dubai to get some rest from the ongoing pandemic situation and you don't know how this pandemic has changed the traveling and tourism in Dubai. No worries because we are here to resolve your confusion. In this article, we will give you a thorough guide on how to enjoy vacations in Dubai during the pandemic. What things are essential and what things should not be done. Trust us, everything you will read has been written after proper research. 
What Time Is Most Accurate To Visit Dubai
The weather in Dubai can give you a tough time. There is only one season in Dubai which is summers. The summers of Dubai get extremely hot in some months that it becomes difficult to bear the heat. Only the months from November to March are safe for foreigners to visit Dubai because the scorching heat is comparatively low in these months and somewhat bearable.
 It is very difficult to survive without air conditioners in Dubai but from only November to March you have a moderate climate. No one wants to ruin his/her vacations by just in the hotel room in an air conditioner. So, do not make a mistake by choosing the wrong time. Otherwise, you will not enjoy your time in Dubai. Also, for the foreigners who come to countries where they do not experience extreme climate changes, it is highly recommended to visit Dubai from November to March.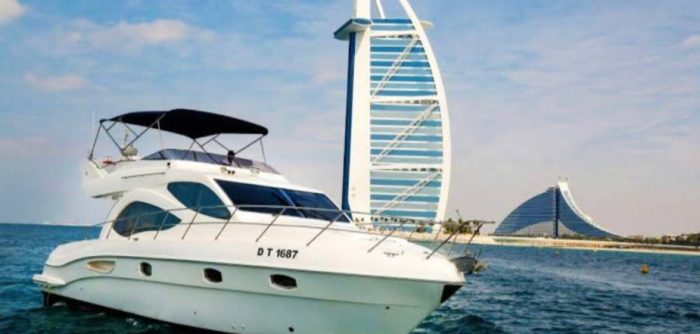 Places to Visit
You may know about the famous places in Dubai like the Dubai mall, Dubai fountains, or Burj khalifa. You will visit all of these places and yes, you will love these but one thing that most people miss is a short trip on a yacht. Trust us, your yacht experience will be worth the money. You might be thinking that how can I book a yacht in Dubai and what are the criteria? It is quite simple. You just have to contact a company which rents yachts in Dubai. They will ask you about the number of people you are bringing and for how many days you want the yacht. After these formalities, you can easily rent a yacht in Dubai. Sounds great, right? 
One more thing that you can't miss when you visit Dubai is a short trip to Abu Dhabi. Abu Dhabi is only 1 hour away from Dubai. There are amazing historical places in Abu Dhabi which you will love and you will be stunned by their beauty and architecture. You must be thinking that how will I travel to Abu Dhabi from Dubai? That's not a tough task at all. We will make it easy for you. You can take public transports, a taxi, or a private one. This all narrows down to your budget. 
Which Hotel to Stay In?
When you will visit Dubai, all you will see are enormous buildings everywhere and guess what? Dubai is a hun of luxurious hotels. You will find a variety of options there but we will tell you a smart move. You have to search for hotels in Dubai on the internet, you have to check the rates for booking a room, and last but not least you have to check the services they provide. After doing all this research, you can easily select a hotel that suits your requirements and your budget as well. 
Transportation Services to Opt
Various transportation services are available in Dubai. You should choose the one that will not waste your time by taking so long to reach a place and will be budget-friendly as well. Also, keep in mind that weekends in Dubai are not Saturday and Sunday but Friday and Saturday. 
During weekends, it becomes rushy in Dubai and taxis will take a lot of time to reach your destination. The best transportation during weekends and the rest of the days as well is Metro. It will take you to your destination in less time and less budget as well. Amazing, isn't it? However, you can also choose a taxi sometimes. However, taxi is expensive than the metro.