It is quite hard for any first-time traveler to guess what India will be like. You might either let yourself down or surprise yourself with its beauty. So, good planning of areas that interest you will give you awesome opportunities of adventure in India which you can carry in your memory forever. Let us see a few of them.
Ganges
The Ganges being known as the greatest river of the north Indian subcontinent attracts the most tourists. People immerse themselves in the confluence of the Ganges and Yamuna river situated in Allahabad, believing that it will wash out their sins. On visiting this place you'll get the opportunity of meeting people from various states and with a different culture. 
Amer Fort, Rajasthan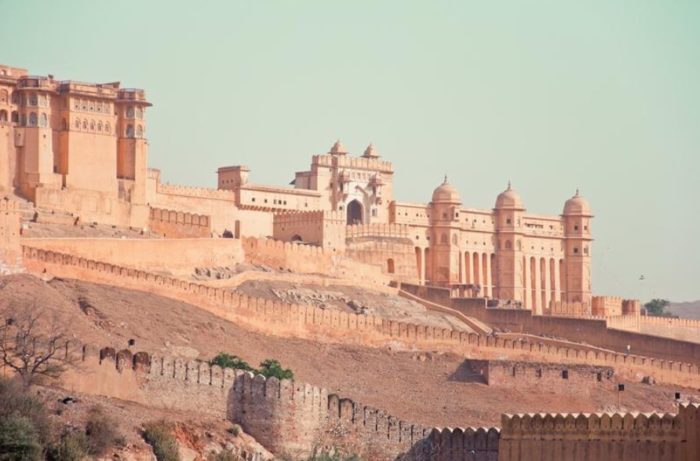 Photo by Divya Thakur, CC BY-SA 2.0
The Amber fort is very famous for its history and photography. It is a great example of ancient Indian architecture. The strong walls built of red and white sandstone, paintings of ancient hunting styles, portraits of the Rajput rulers and the carvings on the ceiling are the extraordinary features of the port.
Humayun's Tomb, New Delhi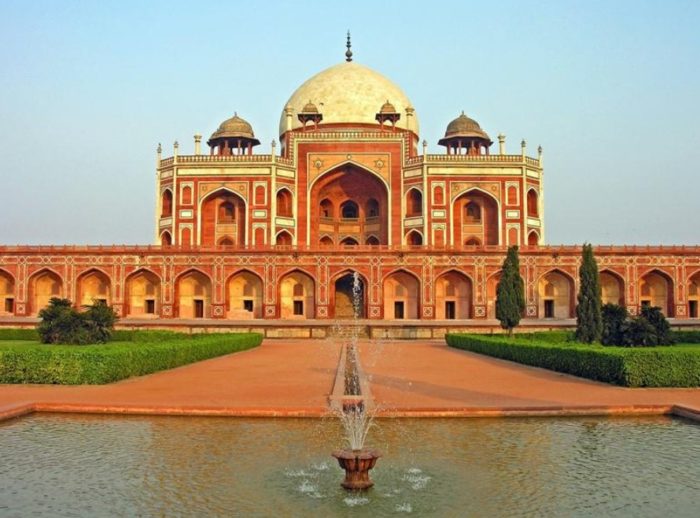 Photo by Dennis Jarvis, CC BY-SA 2.0
It was built in Delhi during the Mughal rule and is famous for its Persian architecture. Its octagonal shape and its high central arch are the most attractive features.
Qutub Minar, New Delhi
Photo by SuanlianTangpua, CC0 1.0
Qutub Minar stands as the second tallest Minar in Delhi built of marble and red sandstone. It is popularly believed that Prithviraj Chauhan built it for his daughter to watch the holy river Yamuna from its topmost floor.
The Red Fort, Delhi
Photo by Arian Zwegers, CC BY 2.0
It is one of the greatest historical monuments of India. It is also known as Lal Qila because of the extensive use of red sandstone. The huge walls of the Red Fort are the main reason of attracting tourists. One must visit this place at least once in a lifetime.
Agra Fort, Uttar Pradesh
You can say it is a trove of elegant Mughal architecture. It possesses buildings of assimilated architecture like the Islamic and Hindu and highlights the mixture of cultures existing during the Mughal rule.
India Gate, New Delhi
It is a huge archway located across Rajpath in Central Delhi that resembles victory. India respects the people who have given their lives for her pride by carving their names on this gate. You will realize a sense of patriotism on visiting this place.
Hawa Mahal, Rajasthan
Hawa Mahal is Jaipur's most famous landmark possessing a delicately honeycombed hive made up of pink sandstone. It was built for the ladies of the royal families to watch the life and processions of the city. 
Siddhivinayak Temple, Maharashtra
Photo by Rakesh, CC BY-SA 2.0
Receiving huge amount of donations every year, it places itself in the richest temple in India. Its most striking feature is that the Ganesha idol present inside it is carved out of single black stone and has Ganpati's trunk to right, instead of left.
Vaishno Devi, Jammu And Kashmir
Photo by Vineet Timble, CC BY-SA 2.0
It is a popular belief that people venture out to this place to attain Dharm (Righteousness), Arth (Material Pursuits), Kaam (Contentment) and Moksh (Enlightenment). Although you may not hold faith in these, you must visit this place to enjoy its natural beauty.
Jantar Mantar, New Delhi
Photo by halftheworldaway, CC BY 2.0
Jantar Mantar is a popular tourist place featuring nineteen architectural astronomical instruments and the world's largest sundial. It is also listed by UNESCO as a world heritage site.
Jaisalmer Fort, Rajasthan
Photo by Koshy Koshy, CC BY 2.0
It is also nicknamed as the "golden city". You will find finely sculpted houses and temples and the town standing on a ridge of yellowish sandstone, crowned by a fort.
Lotus Temple, New Delhi
It is popularly known as the Bahai House of Worship. It serves as the mother temple of the nation with 27 freestanding marble-clad petals arranged in a cluster of three. It is a serene and unruffled place.
Mysore Palace, Karnataka
Mysore palace incorporates 2 durbars (huge meeting halls), gigantic courtyards, alluring gardens, and decent buildings. It is popularly called as the city of palaces. It attracts more than 6 million tourists every year. It is more like a dreamland.
Jaigarh Fort, Rajasthan
It is a historic hilltop fort with a museum. It is situated on the headland called Cheel ka Teela of Aravalli range. Its construction is similar to that of the Amber Fort and is also known as victory fort.
Konark Sun Temple, Odisha
Photo by Achilli Family | Journeys, CC BY 2.0
It is considered as an architectural marvel of India. The gigantic chariot shaped temple complex, elaborately carved stone walls and pillars are its key features that attract millions of tourists every year. It is one of the UNESCO World Heritage sites in India. 
Jama Masjid, New Delhi
Photo by Peter Rivera, CC BY 2.0
Jama Masjid is the largest mosque in India which attracts God lovers, photo fanatics and nirvana seekers. It is popular for the large courtyard it possesses, which can accommodate twenty-five thousand people easily.
Wonderla, Kerala
Photo by Swaminathan, CC BY 2.0
It is an award-winning amusement park with a water park. You will definitely enjoy at this place irrespective of your age group. 
Jagannath Temple, Odisha
It is a sacred Vaishnava temple at Puri. It has a mysterious history that consumed more than a century to get unveiled. The antiquity of Jagannath temple dates back to second century B.C. when Kharavela ruled. This is a sacred place that will lift your spirits and make you feel motivated.
Nehru Zoological Park, Telangana
Photo by Cephas 405, CC BY-SA 3.0
It is one of the most visited destinations in Hyderabad. It has around 1500 different kinds of animals and is one of the largest zoos in the world.
Conclusion: So, it is a sure thing that you will definitely get surprised by your visit to India by its diverse culture thriving and festivals celebrated throughout the year across various cities.
Author's Bio:
Rohit being a hardcore traveler shares his views about must-visit destinations in India at TransIndiaTravels.com to help people plan their days successfully in India. Hope you have a memorable trip! Best of luck!