When Peru's attractions pop up into a conversation, most of the thoughts go to the Machu Pichu and the Andes Mountain. Only the beach lovers, as well as the surfers and divers, know that Peru has some beautiful beaches to enchant anyone. Nestled on the shore of Pacific Ocean, Peru is a country of diverse climate, wildlife, and coastline. Around 50% of the Peru's population live on the ocean shore, and Pacific plays a big part in their daily life from seafood cousins to the culture of surfing and diving. Having the entire west coast bordering Pacific ocean, Peru owns a lot of beaches, and they are catching the eye of fine travelers and beach lovers. Being situated in the southern hemisphere, the best time to visit Peru beaches is from December to April – though they are equally beautiful all around the year. Here are the five best beaches in Peru:
1. Mancora Beach, Piura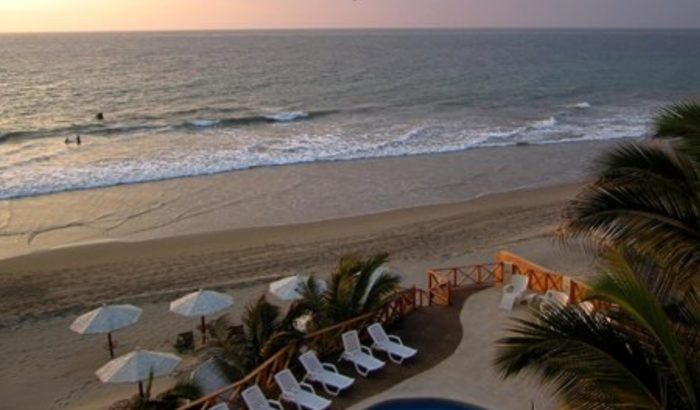 Set on the north side of Peruvian coastline, Mancora is famous for its sunny weather throughout the year.  This is also one of the main reasons why this beach is affectionately called the 'party beach.' No day of the week in Mancora is passed without a party, and there is always a festive environment with numerous nightclubs, open-air restaurants, and more than 30-holiday resorts.
The beach is perfect for some downtime, and it doesn't take long to fall in love with the place full of charm. People come over Mancora from all around the world through South Americans are large in number. Due to its hip-hop, party vibe, many visitors end up staying longer here than they originally planned. Apart from partying, kayaking, horse-riding, windsurfing, and certainly, surfing are other popular activities on the beach. If you're searching for the good things in life without extra hassle, Máncora is the retreat you've been thinking of. So, it has to be one of the best Peru beaches.
2. Mollendo Beach, Arequipa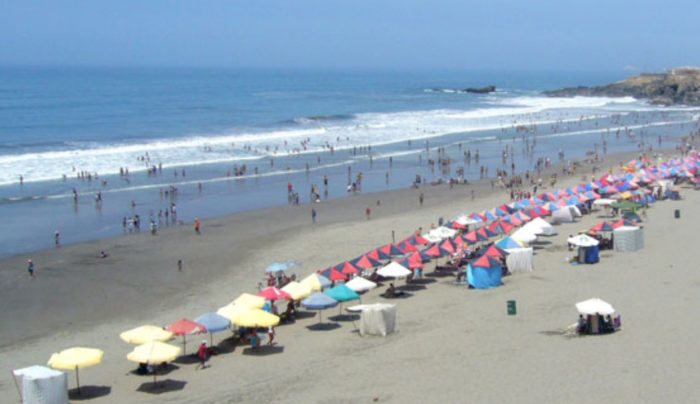 Mollendo is the prettiest beach village in the southern Peruvian coast with a stack of cool looking two-storied wooden houses, some of them dating back to around 100 years.  The village is located right along the arching beach and slopes down to it. The long stretch of white sands is quite popular among arequipeños (residents of Arequipa, the nearest big city) as well as intrepid surfers and tan colored sunbathers. Along with the natural beauty and turquoise water, Mollendo is famous for another two reasons: the bird reserve at Lagunas de Mejía and the birthplace of Abimael Guzmán, aka Presidente Gonzalo, the leader of the Guerrilla group 'Shining Path' who tried to establish communism in Peru.
3. Playa de La Mina, Paracas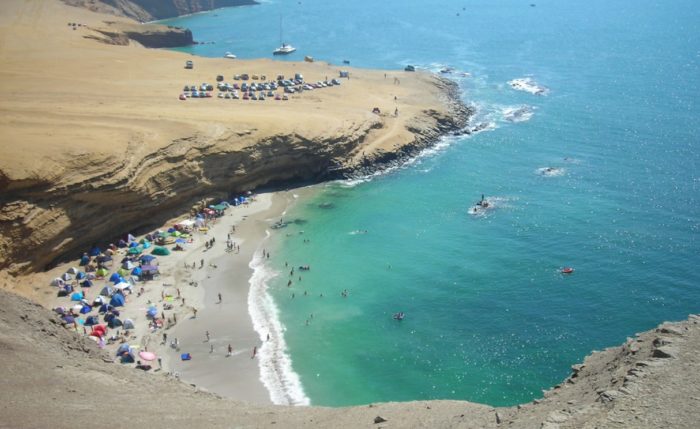 Tucked into Paracas National Reserve, Playa de la Mina is a beach adorned with splendid beauty and abundant wildlife. It is 145 miles south of Peru's capital Lima and can only be reached via a motor drive through the Paracas National Reserve. In fact, the beauty of this beach lies in the seclusion. With a landscape and cliff theatrical enough to be featured in movies, the beach is encircled by an endless desert area and has surprisingly cool blue water where you can take a dip if you feel like it. As the beach is a part of Paracas National Reserve, lots of wild animals and birds are noticed around. The view of the sunset and sunrise is quite stunning from the beach and visitors can camp on the beach to enjoy the show.
4. Punta Sal, Tumbes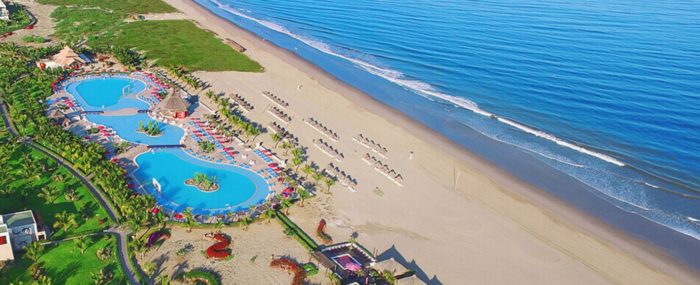 Are you looking for a romantic escape or clam retreat to a place like a paradise? Look no further than Punta Sal as it will provide you the 'living-in-paradise' feelings with its long sandy beaches, deep blue sky, lavish green trees including palms, picturesque sunsets, and amazing seafood dishes. There is also a good arrangement for accommodations including luxurious spa hotels and beach-front villas. If you make the trip to Punta Sal in between July to October, you can go for whale watching and see the amazing scenery of thousands of whale traveling together along Peru's northern coast and playing with each other. Thus, it has to be one of the most spectacular and best Peru beaches.
5. Huanchaco Beach, Trujillo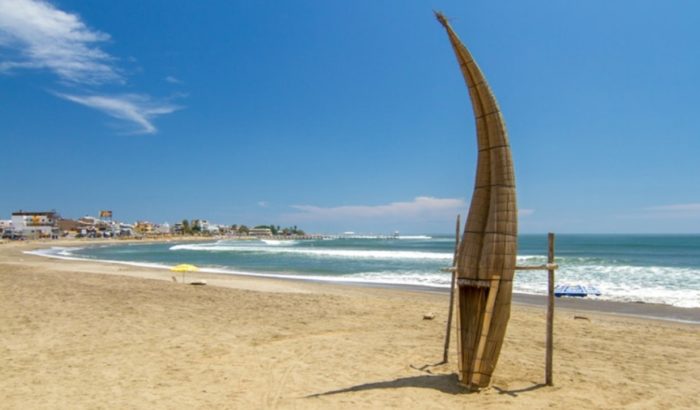 One of the five surfing heavens of the world, Huanchaco is an official international surfing reserve. Situated 12 km northeast of the city near the historic ruin of chan chan, not hitting the fine wave with a surfboard is almost sin in this place! Don't worry, if you haven't done surfing before, there are plenty of people and groups offering the surfing lessons around. The best time to visit this beach is from December to March though people come here all year round. Being a fishing town, the seafood dishes of Huanchaco is also quite famous. The dish 'Caviche' (raw fish marinated in citrus juice, cooked but not heated) has been declared as part of Peru's national heritage, and people from all South America flocked here to taste it. All these things make it one of the most beautiful and best Peru beaches.